YouthBuild Director's Corner - July 2021
Makhinohn Walden Graduate Keymakers
Congratulations to Makhinohn Walden, YouthBuild Program Specialist for completing the rigorous 10-month Volunteers of America Chesapeake & Carolinas (VOACC) Emerging Leaders KeyMakers program!
The program exposes participants to practical, applicable tools and concepts that help increase self-awareness, foster leadership skills, build stronger teams and strengthen our organization.
We are proud of you Makhinohn!
YOUTHBUILD Student Refining Carpentry Skills
Nakisha Brokers who is part of COHORT 6's YouthBuild program has done exceptionally well during her time as a YouthBuild student. Nakisha has received her National Center for Construction and Education Research (NCCER) certificate, Occupational Safety and Health Administration (OSHA) credential, and her CPR and First Aid certificate. Nakisha begins a Job Shadowing program with Breeden Construction which should land her a position with the company.

Students build a cabinet for the library
Tyrone Brock along with other members from his COHORT begin the process of a Four Oaks Training Center cabinet project. YouthBuild Construction staff not only train students on Construction trades but woodworking as well. These photos show students beginning the project and the completed cabinet.
Breeden Construction Career I Project
Newport News YouthBuild students have worked with Breeden Construction along with numerous subcontractors in the completion of Carrier I, project. The project has the following Features:
43 residential units, which will include a 3-story building consisting of 9 townhomes, and a 34 unit 4-story building with an elevator.
The 4-story apartment building will have a community room, management suite and commercial use area on the 1st floor as well as a 4th floor roof terrace.
Outdoor recreational area.
43 parking spaces
Newport News YouthBuild graduate, Michael Diaz, is a lead on the project initiatives.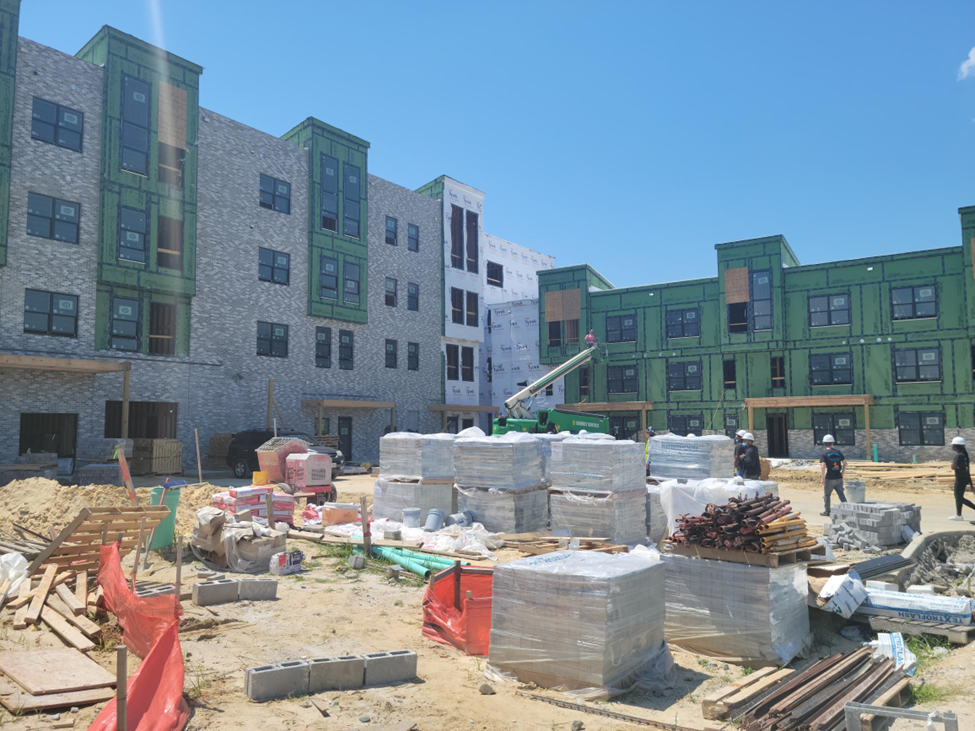 Breeden Construction along with the subcontractors have provide Youthbuild students the opportunities with Job shadowing and Carrier I project site surveys. The Carrier Project site surveys have given the Yothbuild students first hand experiences on construction project planning, execution, and monitoring. The site survey allowed students to speak with site superviors about what is is like in the day of a Construction worker.

Breeden Construction is a relationship-driven general contracting company committed to construction excellence, creativity and industry leadership. The company exemplifies professionalism, high quality and strong results and decades of experience in the construction industry.
Michael Diaz provides Site Overview
Michael Diaz who graduated from the YouthBuild program September 2021 is currently a site supervisor for the Carrier I project. Michael Diaz frequently visits the program to speak with new COHORT and recently provide a Carrier I construction site overview to COHORT 7. Michael discussed the project as well as Breeden Construction's goals or objectives are important; however, ensuring the health and welfare of the workers on our job sites the company's focus as well.

Breeden's Team is successful because they cooperate with one another and depend on each other to identify hazards, follow safety procedures and prevent accidents.
Juneteenth celebration with Dept. of Human Services, Four Oaks and YouthBuild
The Four Oaks Day Training Center staff along with YouthBuild staff and students participated in the Juneteenth Parade, June 11, 2022. Juneteenth is a day that commemorates and celebrates the end of slavery in the United States. The Juneteenth celebrations included families gathering for music, food, and dancing in Lincoln Park. Juneteenth is also known as Freedom Day, Jubilee Day, Liberation Day and Emancipation Day. June of 2020, Governor Ralph Northam issued Executive Order 66 declaring Juneteenth as an official state holiday in Virginia.
YouthBuild partnered with Four Oaks staff to advertise the program and center on the float pictured here. Four Oaks and YouthBuild Construction staff teamed up and built the float on a YouthBuild staff's trailer.
GREAT WORK TEAM!!!!!!!!
"Gracias Por Todo – Thank Your for Everything"
"Enjoy the little things, for one day you may look back and realize they were the big things." - Robert Brault
I want to thank everyone who has supported this program and the students over the past six month. The program assisted Tyreek Pittman with getting his GED, it has provided Sharif Boyd to get employed by WRT Design in Philadelphia, Pennsylvania. WRT is the lead architecture firm who designed the Carrier Project for the city of Newport News.
COHORT 6 will finish their training July 15 with Jaiomy Rodriquez receiving her GED and several students from the COHORT receiving employment consideration with the city of Newport News and local General contractor.
COHORT 7 which is our largest COHORT since the program started began their YouthBuild training the day after Memorial Day and are doing exceptionally well with construction training and GED preparation.
YouthBuild video links for sharing and outreach:
LET'S GET THE WORD OUT TO THE COMMUNITY(IES).
Commitment + Opportunity = Success
Blessings to all,
Daniel S. Carrera
Program Director of Newport News YouthBuild
(540) 514-1207
dcarrera@voaches.org